ELITE SOUND QUALITY
Feel the warmth of natural sound and hear every detail. Studio-quality 64-bit mixing and dithering processing, 32-bit high-quality A/D and D/A converters, a low-jitter clock circuit, and many other components all work to  produce a full low-end, vibrant mids, and precise highs.
ESS Technology 32-bit D/A converter
A 32-bit SABRE 8-channel DAC (ESS Technology's ES9016S) is used for both the master and booth outputs. The DAC output is driven in parallel to further improve S/N. To maximize the DAC's capability, we've honed the output circuit by improving operation amps and capacitors and performing optimal tuning. This results in a sound that's low-noise, high-resolution, and easy to listen to – even at high volume.
32-bit A/D converter by Asahi Kasei Electronics
The analog channel inputs use a 32-bit premium ADC (AK5578EN/AK5574EN) with VELVET SOUND technology by Asahi Kasei Electronics. By redesigning the input differential conversion circuit and optimizing the audio parts used, we've created a rich, high-definition and low-distortion sound.
EM Device mechanical relays
The line/phono input switch, master output, and headphones output circuit use high-performance, highly durable mechanical relays (EA2 relays) from EM Devices Co. They eliminate signal distortion due to the use of non-linear electrical components, completely cancelling unpleasant noise in the mute circuit.
AES/EBU output
The master outputs  feature a noise-resistant balanced transmission system and a professional digital audio-standard AES/EBU terminal that's suitable for long-distance transmission in large venues. This means you can deliver audio to the audience without degrading it.
6 CHANNELS WITH A WIDE RANGE OF INPUTS
You're free to create your perfect setup with 6 channels and a host of different input types.
6 channels
Choose your ideal setup and plug in everything from CDJs and turntables to samplers, synths, and drum machines. Setting up is easy thanks to analog input terminals that line up with each channel on the top panel, so you'll always know where to connect your cables when you're in the booth.
USB/MIDI terminal
With a 96 kHz/24-bit sound card, you can input and output up to 6 stereo channels without any deterioration of sound quality when connected to a PC/Mac. The input and output of the send and master signals, as well as the input and output of individual channels, can be routed via USB to your computer. Enjoy smooth DJ handovers by simultaneously connecting 2 laptops (PC/Mac).
MULTI I/O terminal
A USB A terminal and a 1/4-inch TS jack  are mounted on the top and the rear of the mixer. You can arrange your sounds using the RMX-1000 app for iPad or another FX app, or record your mix directly to the DJM-REC app without any deterioration in sound quality. You can also route insert-type hardware effect units, such as the RMX-1000, through the 1/4-inch TS jack connection.
DIN MIDI out
Sync external production gear using the BPM from rekordbox. Quantized BPM information is shared via Pro DJ Link when connected to a LAN hub. When not using PRO DJ Link, the DJM-V10's BEAT FX suite will analyze and display a track's BPM.
4-BAND EQ AND COMPRESSOR
Take full control of your mix with the newly developed 4-band EQ. A built-in compressor enables further adjustment of the loudness of your tracks.
4-band EQ
Sculpt your sound just the way you like it. The frequencies, curves, boost and cut amounts on each band have all been specially designed to give you total flexibility. Completely isolate the high and/or low and tweak the two mid ranges – which have their own custom curves – to fine tune your mix.
Compressor knob on each channel
The DJM-V10 allows you to seamlessly play old or unreleased tracks alongside modern compressed productions. Turn the compressor knob on the relevant channel and the mixer will "beef up" the audio in real time. The quieter the track, the more pressure is added, boosting the sound of "weaker" tracks while having a minimal effect on mastered music.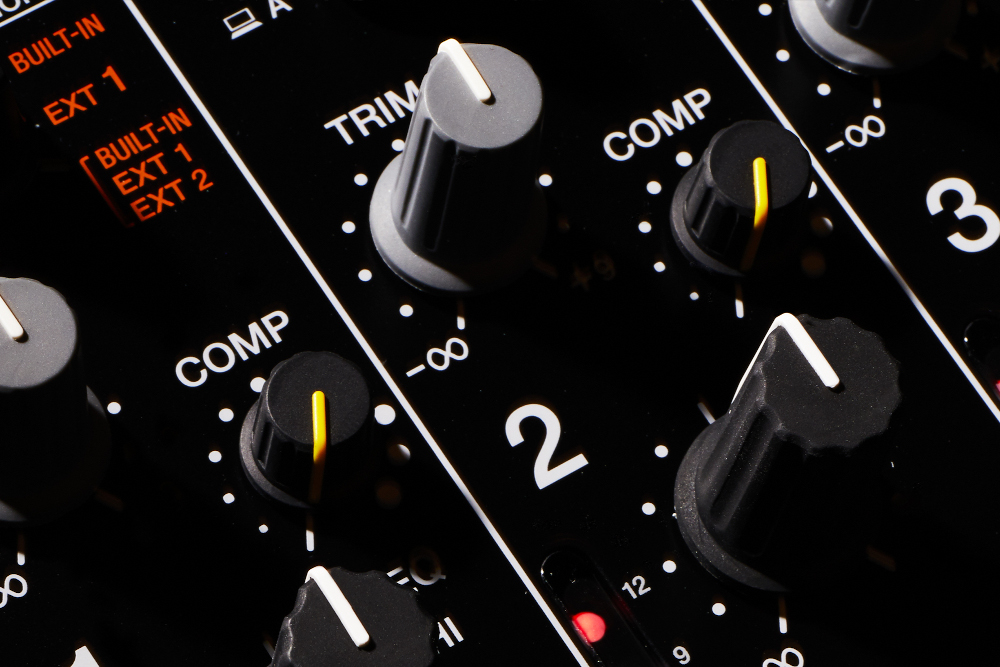 Channel fader
Each channel is equipped with a newly developed, precise fader that enables fine adjustment. Highly stable and durable, they'll still feel smooth even after years of use.
EFFECTS FOR MORE CREATIVE EXPRESSION
The expanded send/return section enables you to add external FX, or even combine them with built-in FX. Create unique sounds; the possibilities are nearly limitless
Send section
Send audio to one of four built-in FX and up to two pieces of external equipment to create unique sounds and even live remixes. You can connect guitar pedals, FX units, and more to the TS jack send/return terminals.
Filter
Drastically change the sound of a track, or subtly tweak it, using the newly developed filter with resonance control. Switch on high or low pass by pressing either button, then turn the knob from all the way to the left (no filter applied) to the furthest position on the right (maximum filter applied). Because high and low pass are separated you have twice the resolution to play with compared to the filter on the DJM-900NXS2, allowing for more pronounced adjustments.
Beat FX
Control the X-Pad via the touch display for more intuitive effects manipulation and bring harmony to sound sources such as vocals and synthesizers to create unique sounds. You can directly select the channel you want to add the effect to with the BEAT FX Assign button on each channel. We've also added Shimmer; a new Beat FX that adds brightness to the original audio.
DUAL HEADPHONES OUTPUT AND BOOTH EQ
The DJM-V10 makes back-to-back monitoring simple and comfortable. You can tweak the sound in the DJ booth just the way you like.
Dual headphones output
Plug in your headphones at the same time as another DJ and enjoy independent monitoring. Each headphones output has its own Cue/Master Mix control and level adjustment knob so you can choose what you want to hear as you prepare to take over the decks, or during back-to-back sets.
Booth EQ
With booth EQ, you can tweak the sound from the monitor speakers to prevent ear fatigue during long sets.
SPECIFICATIONS
Main Features
MIDI Control

Full assignable MIDI controls

ProDJ Link

Yes

Booth EQ

Yes

P-LOCK Fader Caps

Yes

Auto Standby

Yes

DVS Control

rekordbox
Serato DJ Pro
TRAKTOR PRO 3

What's in the box

DJM-V10
Power Cord
Warranty (for some regions)
Quick Start Guide
Precautions for Use
Specifications
| | |
| --- | --- |
| Width | 17.23 in |
| Height | 4.25 in |
| Depth | 18.39 in |
| Weight | 26.24 lb |
| Frequency Range | 20 – 40000 Hz |
| Sampling Rate | 96 kHz |
| A/D Converter | 32 bit |
| D/A Converter | 32 bit |
| S/N Ratio Line | 105 dB |
| S/N Ratio Phono | 88 dB |
| S/N Ratio Mic | 79 dB |
| Distortion | < 0.005 % (LINE) |
Channels
| | |
| --- | --- |
| EQ | 4 band |
| EQ Range | [Hi/Low] -∞ ~ +6 dB / [Hi Mid/Low Mid] -26 dB ~ +6 dB dB |
| COMP | Yes |
Performance Control
Channels

6

Filter

SEND

Short Delay
Long Delay
Dub Echo
Reverb
2 Externals (1/4-inch TS jack)

MULTI I/O

1/4-inch jack
USB (Type A)

Beat FX

Delay
Echo
Ping Pong
Spiral
Helix
Reverb
Shimmer
Flanger
Phaser
Filter
Trans
Roll
Pitch
Vinyl Brake

FX Frequency

Yes

X-PAD

Yes

rekordbox Quantize

Yes

Master Isolator

Yes
Crossfader
| | |
| --- | --- |
| Crossfader Type | Magvel Fader |
| CURVE Assignable | Yes |
| Fader Curve | 3 |
Mic
Mic Connection

XLR / 1/4-inch Jack Combo
1/4-inch TRS Jack

Talkover

3 Position Switch

Talkover Attenuator

Yes
Terminals
Inputs

6 DIGITAL (Coaxial)
6 LINE (RCA)
4 PHONO (RCA)

Send/Return

3 SEND (1/4-inch TS jack)
3 RETURN (1/4-inch TS jack)

LAN

1

USB

2 USB B ports
1 USB A port

Outputs

2 MASTER (XLR, RCA)
1 BOOTH (1/4 inch TRS Jack)
4 HEADPHONE MONITOR (1/4 inch Jack, mini-jack)
1 REC OUT (RCA)
1 DIGITAL (AES/EBU)
1 MIDI (DIN)