Description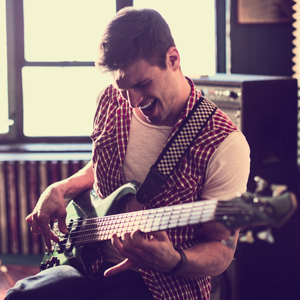 Revolution Is My Name
Just like RH450 and RH750 has taken your expectation to a bass amp up a level, our range of RS cabs will revolutionize your on-stage performance.
Superior tone, nifty features and great stackability combined in a series of cabs you simply gotta try.
•    Vertical Stacking
•    Superior Tone in a Light Package
•    Custom Eminence Drivers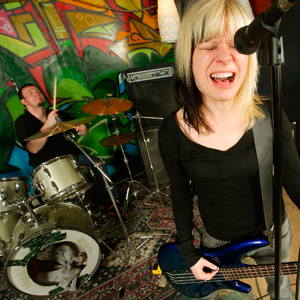 Stack 'Em High!
We do not believe in conventions or rules. Sure, you adhere to the rules to a certain point – but then you break them! That thought is what lies behind our unique vertical stacking concept that frees up space on the stage, takes weight off your back and most importantly, lets you hear every detail of your playing without sacrificing low-end punch.
The RS cabs come in 4 models: 4×10″, 2×10″, 2×12″ or 1×12″, and you can mix and match as well as stack them both vertically and horizontally as you see fit.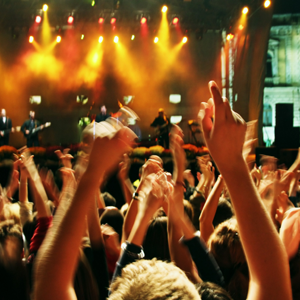 Fat Tone, Skinny Weight
If you have a crew of roadies to handle your gear, weight is not a concern of course, but if you have to handle your own rig after a long gig, you know that a 130 lbs. 8×10″ cab can suddenly transform itself from a source of sound to Mission Impossible…
Enter our RS cabs. They pack some serious power, but that does not translate into serious weight! In fact, you'll find it a breeze to load and unload the van when you're gigging with our range of RS bass cabs.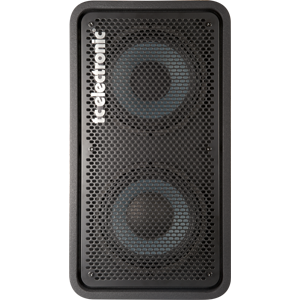 Dual Drive
No, we're not talking about overdrive here… When we decided to get into making bass cabs, we did it like we do everything we attempt: 100%. Otherwise, what's the point?
So we teamed with the speaker gurus over at Eminence to design a dual-concentric driver that fits a 1″ tweeter inside the main driver.
You may not be able to see it, but it's definitely there making those crispy highs that add a touch of magic to your tone.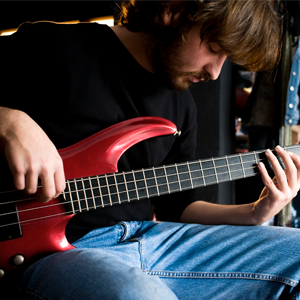 Vertical Stacking Explained
Vertical Stacking… It may sound like a term that was developed by our sales and marketing departments, but in reality Vertical Stacking was born in our bass development department. The concept emerged from years and years of bass playing. Yep, that's right! The guys developing TC bass gear are actually bass players themselves, and they know what it's like out there in the real world of bass.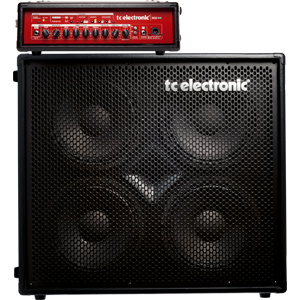 The Problem
If you ever play gigs at private parties or small to mid-sized venues, you probably decided to only bring one bass cab – typically one with a 4×10″ speaker configuration.
If you place a 4 x10″ cab on the floor the sound waves will bounce off the floor. While this is great for getting that fat low-end impact, the downside is that you can't hear the details of your playing. (Well, your knees can, but not your ears.)
One solution is to place the cab on a chair, a rack case or similar. Now, you can hear the mid and high frequencies much better, but the downside is lack of low-end presence. Since you elevated the cab, you lose the early reflections bouncing off the floor.
In other words, no matter what you do, using only one 4 x 10″ cab means a compromise of sound quality.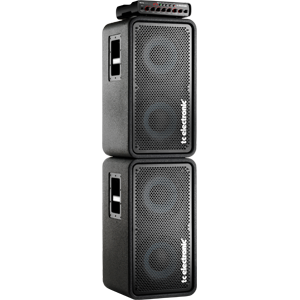 The Solution
The solution to the problem is our unique Vertical Stacking concept. There is nothing wrong with using 4 10″ speakers. In most situations, that is more than enough – the problem is that all 4 speakers are fitted inside a square box in a 2×2 configuration. Our answer is a 4×1 speaker configuration using either two 2×10″, 2×10″/2×12″ or two 2×12″ cabs. Whether you want 10 or 12″ speakers or a combination, the point is that you stack the speakers vertically.
The early reflections add punch and low-end to your sound, but at the same time, you can hear every detail thanks to the fact that the top speaker is aligned with your ears.
No More Compromises. Issue Solved!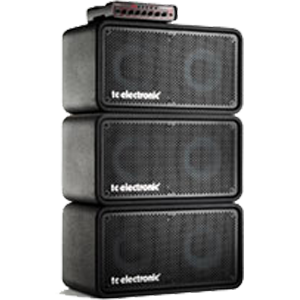 Horizontal Alternative
As long as you use TC cabinets, most of our amps can actually handle 3 cabs simultaneously.
Obviously, it would become a very tall stack if you stacked 3 2×10″ or 2×12″ cabs vertically, in fact you may not be able to reach the amp…
But don't worry, due to the extra cab, it actually makes sense to stack them in the traditional, horizontal way if you hook up three cabs.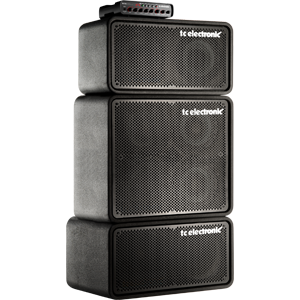 Classic Stacking
If weight and space is less of a concern, you can always go for the classic configuration of 8×10″. Or how about 2×12″ in the bottom, 4×10″ in the middle and 2×10″ on top? Obviously, such solutions will also give you all the benefits of vertical stacking using smaller cabs.